Candy Land is a very popular candy store located in Central City.
Overview
Business

The store is a small building owned by an old man and his daughter. It became very popular over the years of hard work and candy making. The fudge is said to be the most popular item sold. Bulla used to come here when her family visits Central City.
History
The store was made after the wife of the old man's death. He said that she loved sweets and he would always get her a box of candy for her. She died when their daughter was five years old, so the old man took care of his daughter which led him to starting business. The store is said to be more than a store, in the old man and his daughter's point of view, but it is the heart of the family.
Treats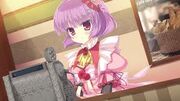 Candy
Fudge
Caramel pops
candy canes
Gumdrops
Gumballs
Lollypops
gum
chocolate covered strawberries
Chocolate bars
Chocolate truffles
Sour Balls
Rice Crispies
Cotton Candy
Milk Chocolate
Milk Duds
Gummy worms/bears
Other items
Soft Served Ice-cream
coffee
hot chocolate
Water Bottles
Eggcream
Milkshakes