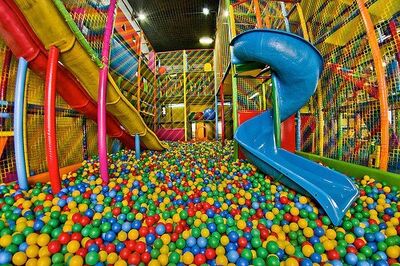 Super Party Playland 
is a chain of family entertainment centers, marketed primarily towards children and teens. The mascot of Super Party Playland is a cartoon sheep with anthropomorphic features named 
Sheepy
. The entirety of Super Party Playland and its merchandise "has that sheep plastered all over it", according to 
Ted Reigen
. The first and most well-known location is the one located near the Reigen family and is the favorite hangout of Ted's children.
Concept
The concept of Super Party Playland consists of several parts. The main feature of it (as this is the center of the location and where the entrance is) is a large indoor multi-tiered climbing structure, complete with maze-like segments, crawling tubes, slides, and ball pits. In addition to the main structure, there are two additional structures; one for infants and toddlers and another for young children. The center of it also has a full-size, adjoining pizza restaurant with an outer space theme and large arcade. The pizza restaurant comes with its own playground for children to entertain themselves on as they wait for their meal.
Super Party Playland also features a "Globo-Golf" section, which is a full-size indoor mini-golf course, themed and done completely under blacklights, to give the golfing experience its signature look.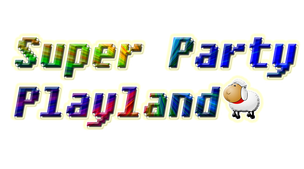 The second-most major part of Super Party Playland is its miniature zoo, which features exotic animals such as lemurs, capybara, javelinas, fossas, fennec foxes and many others, as well as having a petting zoo. This zoo is only featured at the location frequented by the Reigen family, but the themed playgrounds around the miniature zoo can be found at all parks. The zoo portion of Super Party Playland also features a few childrens' rides.
In addition to the outdoor "Adventure Area/Zoo", there is also a water playground stationed in between the zoo/adventure playgrounds and a pool playground with a pirate theme. The water playgrounds are not available during the cold season generally, but are open whenever it is warm enough outside.
The idea behind it comes from a brilliant rich man who wanted to create such a place for his small children to enjoy all of their favorite things. It ended up becoming a chain as many people saw his idea as a brilliant and innovative one.
Gallery