The Lucky777 is a famous casino located in Central City. People who are 18 and up are only allowed. 
Overview
Description
It is located in the downtown busy area of Central City. You do not need to make reservations unless you want a party there. There are lights everywhere and the casino is closed during the morning. Besides gambling, you can also eat, drink, and dance at the club area. You can also rent a balcony to look out at the amazing view.
Business
The dealers try to make it hard for customers to win, but there are huge prizes for jackpots. There are over thousands of machines for you to try your luck on. This casino has wonderful service according to the critics. They have a variety of food choices, but on Friday nights, there are half off appetizers. The place also offers a dance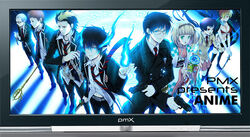 room and you can also rent a room for parties.

Bulla and her friends often come here, especially Nikad, who is pretty addicted to this casino.
Restaurant
Food
Appetizers
chips n' dip
Mini burgers
Potato Skins
Sushi
Loaded Nachos
Chicken Wantons
Quesadillas
Artichoke and Spinach dip
Main Courses
Burgers and fries
Pasta
Sandwiches
Kabobs
Steak dinner
Fish dinner
Ribs
Pizza 
Desserts
Chocolate Lava Cake
Cheesecake
Cream Puffs
Cookies
Apple Pie a la mod
sundaes
Drinks
soda
beer
wine
vodka
sparkling apple or grape juice
smoothies
milkshakes
Mix your own drink deal for $9.99 with free refills.